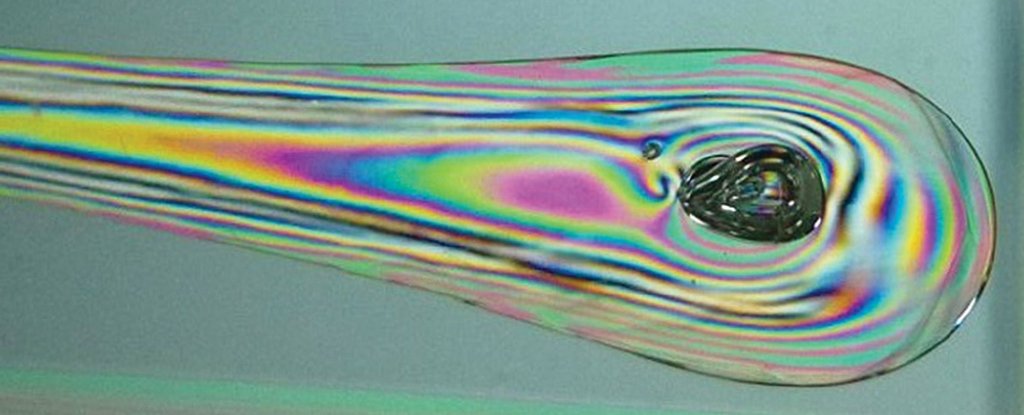 Following up on yesterday, I thought it would be fun to look at some weirder glasses.
Prince Rupert's drops are teardrop (or tadpole) shaped pieces of glass made by dropping molten glass into cold water. They are famous for their bizarre strength. You can pound on the head all you want, and it will almost never break, but nick the tail a little bit and it spectacularly explodes.
This turns out to come from the way the drop forms. That initial bit that hits the water cools so fast it actually gets compressed by the cooling, making it stronger, but the tail is basically a path to the weak core. The trippy oil-puddle-esque image above is taken with a special kind of set-up that looks at light that ends up being polarized by stresses within the glass. Prince Rupert's drops turn out to be technologically important, because efforts to understand them since the 1600s have inspired research into ways to make other kinds of glass stronger, leading to the Gorilla Glass and other toughened glass that now lines our smartphones and many other displays.
Metallic glasses are just what they sound like. Just like how I mentioned yesterday that metals are usually crystals, it turns out we can also try making them into glasses by cooling them so quickly their atoms can't form an ordered structure. This requires either incredibly fast cooling (on the scale of at least 1000 degrees a second for some compositions) or an interesting work around using a lot of different metals together. It turns out that mixing a bunch of atoms of different sizes makes it harder for them to pack into a neat pattern.
You might wonder why we want to make glass out of metals. It turns out to provide a special property – bounciness. And we literally demonstrate that with "atomic trampolines". It's really easy to deform a crystalline metal because that orderly crystal structure makes it easy to slide rows of atoms past each other when you hit them hard enough, just like it's easy to push a row of desks lined up in a classroom. The glass can't deform – there's no preferred direction to push the atoms, so instead the energy just goes back to whatever it hits. This has a cost though – if you hit it too hard, just like regular glass, a metallic glass just shatters instead of accepting a dent. There was initially a lot of hope for them as new materials for the shells of devices like smartphones since they don't transmit that energy to the components inside, but that's proved harder to make than hoped. However, you can buy a golf club that takes advantage of the bounciness to essentially transmit all the energy from your swing into the ball. (Going farther back, they evidently also form the basis of most of those theft prevention tags that ring alarms.)
Finally, I'm breaking my rule a bit with this last one by not having an image, but did you know that toffee is also a glass? (Sorry, no one has put toffee under a high-resolution microscope or run it under an X-ray source for weird images for me yet) Or at least good toffee is. That crisp crunch you get from well-made toffee is because of glass shattering. When toffee feels gritty, it is because it has actually started to crystallize and typically has hundreds of little mini-crystals that want to deform. This is why some recipes suggest adding corn syrup. The bigger sugar molecules in corn syrup mixed up with the sucrose in regular table sugar mix up in a way like the metallic glasses above and make it harder for them to set into their crystal structure. Similarly, an early kind of stunt glass for special effects was literally made by boiling sugar into a clear candy.